How to Make your Eyes
POP
The main purpose of makeup is to accentuate your natural beauty. This is a lot easier to do with some of the industries top tips and tricks.
Eyes are the windows to our souls. They supposedly light the first spark of physical attraction, so what can you do to make your peepers pop?
Generally speaking makeup artists use the colour wheel. Complimentary colours are on opposite sides of the wheel. So simply find your eye colour and the colour on the opposing side is the shade you should be wearing!
Wearing the wrong colour can actually detract from the captivating power of your pupils.
Choosing the right eye shadow can be the difference between a bright, healthy-looking skin tone, and a dull, lifeless complexion.
Blue Eyes: Earth brown, golden brown, gold, peach, pinks, apricot, oranges, coppers
Avoid: Blues and greens
Try: YSL Ombres 5 Lumieres £42 from Boots
Green Eyes: Mauve, plum, purple, pink, reds
Avoid: Greens and blues
Try: Stylish Move Dior 5 Couleurs Eye Shadow £40 Selfridges
Hazel: Lucky girl! Most shades work well with your colour so you can afford to be a bit more adventurous! Typically warmer toners are more flattering, such as bronzes and greens
Try: Smashbox Photo Op Eye Enhancing Palette Hazel Eyes £31.50 Smashbox.co.uk
Brown: Deep shades, dark grey, navy blue, brown, black, deep plum, dark green
Avoid: Pastel colours
Try: Urban Decay Smoked Palette £35 Debenhams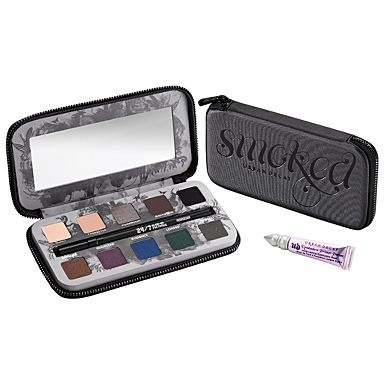 Grey: Greys, cool tones, browns, purples
Try: Urban Decay Shadow Box £27 Debenhams
If you don't have time for eye shadow try a slick of coloured eyeliner on your water line
Why not split Urban Decay's Smoked 24/7 Glide-On Eye Pencil Set between you and five friends? At £26 that makes the pencils just over £4 each, a real steal for the best on the market! Just make sure you go with friends with different eye colours so there are no cat fights at the till!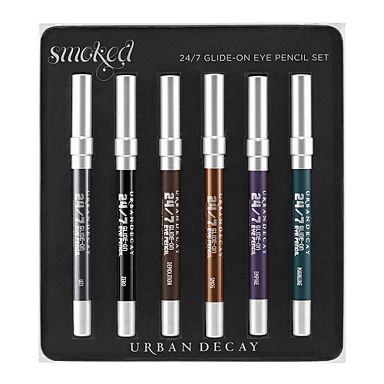 What's your favourite eye shadow colour? Do you stick by the rules of wheel or live more dangerously?